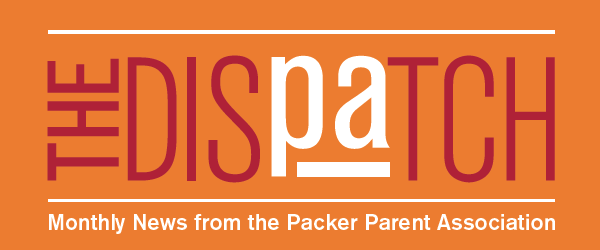 Welcome to the 2019-20 school year. We hope you'll take full advantage of your Parent Association membership by getting involved. You can find all PA events, meetings, and parent programs in your monthly DisPAtch, on the PA calendar, on our Facebook Group, and in your Rep newsletters. Scroll through this month's edition to check out ,what's happening in September, what's coming up in October, and how to volunteer! All families, be sure to check out our PA Resources at the bottom of this newsletter, which includes information on PA Community Pricing and the PA Community Fund.
Look out for all the great new Packer gear and accessories for sale throughout September. Lots of new styles and of course, the classics! Look for us at the following events:
Welcome Breakfasts and 9th Grade Parent Camping Social: see details below.
Lower School Parent Night/Senior College Night: Thursday, September 12 from 6:00 to 8:30 pm (to cover both events)
Middle School Parent Night: Thursday, September 19 from 6:00 to 8:00 pm
Upper School Parent Night: Thursday, September 26 from 5:30 to 9:00 pm
If you are interested in getting involved to help to sell merchandise, please reach out to merchandisechair@packerpa.org.
Welcome Back Breakfasts: Thurs, Sept 5 (MS/US) and Friday, Sept 6 (PS/LS)
All Packer families and faculty and staff are invited to join us for coffee and snacks to celebrate the beginning of the school year! It's a great time to catch up with old friends, meet new friends, and enjoy our community. If you're new to Packer, please stop by the New Parent table to say hello. And don't forget to check out our Packer gear at the merchandise table.

Middle and Upper School Families: Thursday, September 5 from 8 to 9:15 am on the Garden Terrace.
Preschool and Lower School Families: Friday, September 6 from 8 to 9:30 am in the Garden.
9th Grade Parent Camping Social: Friday, Sept 6
At 3 pm in the Atrium, please join fellow Ninth Grade families for a wonderful opportunity to meet your new PA Grade Reps and each other as you wait for your kids to return from Camp IHC. Light refreshments will be served and we will be selling Packer gear.
Parent Program: White Fragility in America: A Conversation with Robin DiAngelo & Jack Hill: Tuesday, Sept 17
At 6 pm in the Chapel, Packer's Diversity and Equity Office and the PA bring scholar and speaker Robin DiAngelo to discuss her New York Times bestseller, White Fragility: Why It's So Hard for White People to Talk about Racism. DiAngelo will be joined by Jack Hill, a diversity consultant, educator, and author, for an in-depth discussion about white fragility and racial inequality. This event has sold out but we encourage our community to read the book so that we can continue the conversation beyond this evening program. A recording of the event with be shared with families later in September.
Community Engagement Orientation and Project: Saturday, Sept 28
At 11 am in the Garden, join the PA Community Engagement team, the Upper School Service Leadership Council, and Director of Global Programs and Community Engagement Tené Howard for coffee and snacks and to learn more about community engagement opportunities for families and students. This is a great chance for 7th and 8th Grade families to familiarize themselves with their students' community engagement program and requirements. Starting at 12 pm, families will have the opportunity to participate in a community engagement project off-campus. Continue checking the PA Calendar for project sign-ups as we approach the date.
"The Pressured Child: Helping Your Child Find Success in School and Life": An Evening with Michael Thompson: Tues, Oct 1
At 6:30 pm in the Pratt Theater, Dr. Thompson will be discussing "The Pressured Child" which is in fact, a discussion for "pressured parents" who are gripped by worries and misapprehensions about their children's psychological journey and life during their thirteen years in school.
Dr. Michael Thompson is a consultant, author, and psychologist specializing in children and families. He is the supervising psychologist for the Belmont Hill School.
Parent Discussion Group Opening Meetings
Parent groups meet monthly to discuss issues and programming related to Community Engagement (formerly Community Service), Diversity and Equity, and Learning Support. All parents are invited to attend any and all meetings, no membership is required. Here's the opening meeting schedule (if you miss one of these, feel free to drop in for the next one):

Diversity and Equity: Wednesday, September 18 at 8:15 am in the Blackburne Library
Community Engagement: Tuesday, September 24 at 8:15 am in the PA Room
Learning Support: Wednesday, September 25 at 6:00 pm in the Pierson Room
Save the Date: October Events
PS/LS/MS Photo Days: Thurs, Oct 3 - Fri, Oct 4
LS Movie Night: Friday, Oct 4
6:00 to 8:30 pm in the Pratt Theater. Read more.
5th Grade and 9th Grade Parent Potluck Dinners: Thurs, Oct 10 and Tues, Oct 15
Look out for an email from your PA Grade Reps for more information.
Pumpkin Patch: Sunday, Oct 20
From 11:00 am to 4:00 pm at Packer. Read more.
NYC-Parents in Action Parent Programs
This year we'll continue our successful NYC-Parents in Action parent programs to provide you an opportunity to connect with other parents in your child's grade to discuss parenting issues, concerns, and strategies. PA Class and Grade Reps will reach out with additional details as your grade's date approaches.
6th Grade Parents Save-the-Date: Tuesday, October 22 at 8:15 am.
All-School PA Meeting: Wednesday, Oct 30
At 6:30 pm in the Blackburne Library. Read more.
To further our efforts to make our events and merchandise accessible to every Packer family, we offer community pricing for all Packer merchandise sold by the PA as well as Pumpkin Patch and Skate Party admission bracelets. If your family receives financial aid, you are automatically enrolled to receive the same percentage discount as you receive on 2019-20 tuition. Please note that the discount is available on student account purchases only, not cash or credit card purchases, and the discount will appear on your monthly Packer statement, not at the point-of-sale. For more information on Community Pricing, please visit the PA webpage or contact Romina Ros in the Business Office at rros@packer.edu or (718) 250-0343.
Last year, we announced the establishment of the Community Fund to support our mission of creating a warm and welcoming community for all families. The fund assists families with certain ancillary costs of attending Packer by supporting grants for individual families or paying for expenses for an entire class or group of students. In the 2018-19 school year, the PA Community Fund awarded over 26 individual family grants for expenses like instrument rental, Packer after-school, and sports pre-season, as well as paying the entire class and grade expense for items such meals during the 8th Grade Washington DC trip. For more information on the PA Community Fund, including a list of eligible expenses, please visit the PA Resources webpage.