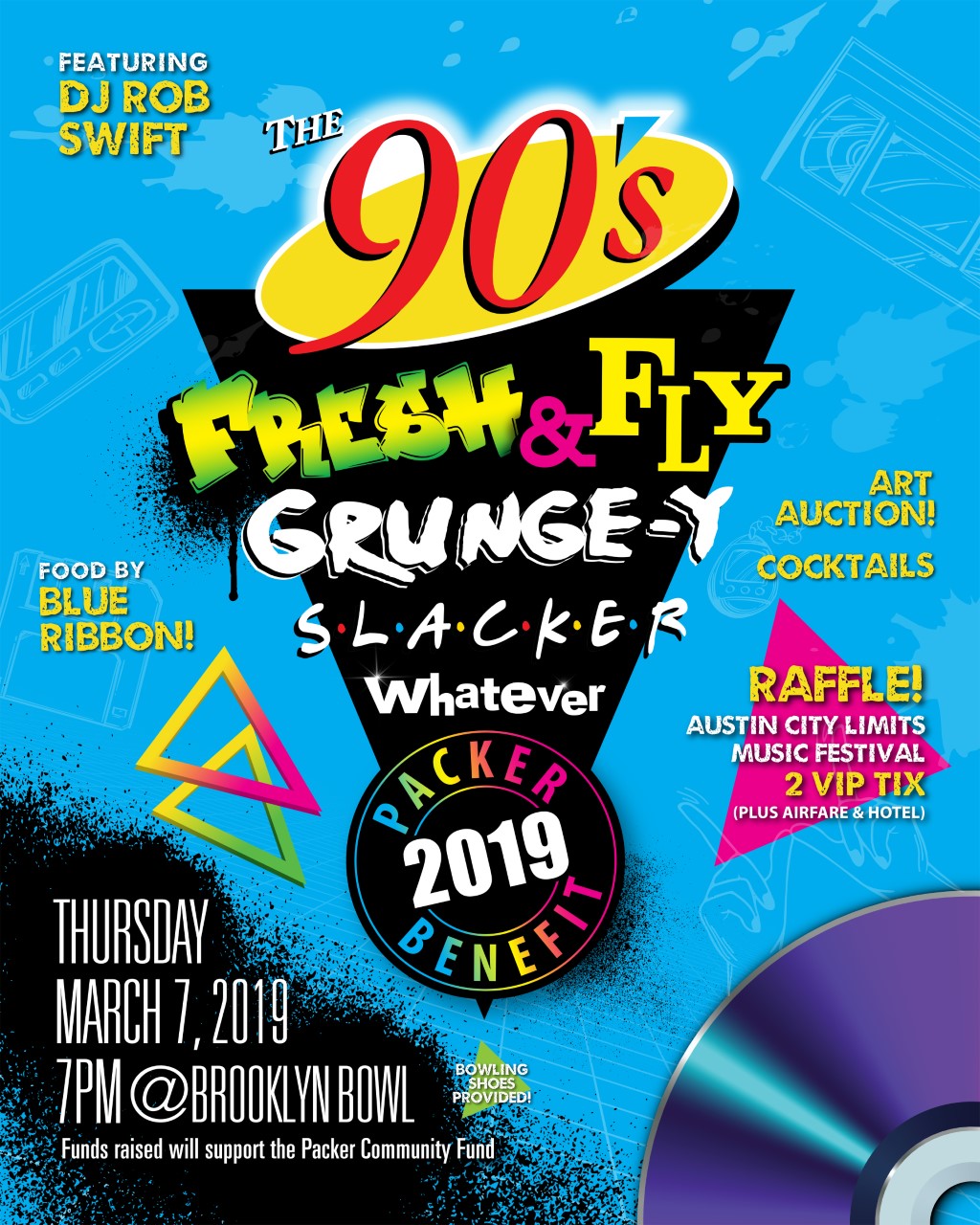 Packer Benefit: Thur, Mar 7 at 7 pm (Brooklyn Bowl)
Come celebrate the Packer community at the annual Packer Benefit... 90s style!

Buy tickets or help underwrite the event!
Browse and bid on amazing art from the Packer community —prints, paintings, drawings, photography, it's all here! All of the works will be on display at our "Benefit Gallery" at the event where the bidding will continue.
Buy Raffle Tickets for a chance to win two VIP tickets to the Austin City Limits Music Festival (including airfare and hotel)!
Volunteer to make this community party a success — sell tickets in the Front Hall, sell raffle tickets at the event, wrap art at the end of the night, distribute sold art the week after the event, or other fun activities!
PA Excellence in Teaching Award: Nominations Due by Fri, Mar 8
We all truly appreciate the efforts of Packer's superb teachers — and here is an opportunity to show it! Parents are invited to nominate a teacher for the 2019-20 Parent Association's Excellence in Teaching Award by Friday, March 8. Download a list of eligible teachers and learn more. Please note that you can also access these documents at the PA website here.  
Room to Grow Event: Sat, Mar 2 from 10 am to 12 pm (7 W. 30th Street, 3rd Floor)
Please join the Community Service committee at an event open to kids of all ages (Preschool and Lower School participants should be accompanied by an adult). We will be sorting, organizing, and preparing donations of baby clothing, toys, and books for the families in their program.
Room to Grow has a vision that one day all parents will have the resources they need to unlock their families' potential and become champions for babies and their community. It offers structured coaching, material goods, and community connections to support parents as they activate their natural strengths and expand their knowledge, so children thrive from the start.
Please RSVP to communitysvccochair@packerpa.org.
Board Position Nominations Due: Sun, Mar 31
The PA Nominating Committee is looking to fill the following open Board positions for the 2019-20 school year (two-year terms, unless noted):
  Vice President
Secretary
Operations Chair
Communications Chair
Technology Chair
Nominating Chair (1 year term)
 
We hope you will take a moment to read through the job descriptions to see if you might be interested in joining the PA leadership next year. Any parent can nominate one or more candidates, or themselves, for a Board position. Please submit your nominations by Friday, March 31.
In addition to Board positions, there are many volunteer opportunities available with the PA, and we need everyone's help to ensure Packer remains the warm and welcoming community we all love so much. Opportunities include (but are no means limited to) the following:
Participate as a class or grade representative
Act as a buddy to a new Packer family
Help to organize an event like Pumpkin Patch, the Spring Benefit, Holiday Gift Fair, Faculty Appreciation or Book Fair
Become involved with one of the PA standing committees, such as Learning Support, Diversity, or Community Service
Sell Packer merchandise throughout the year
For a full list of opportunities or if you have any questions, please email Jamillah Hoy-Rosas, PA Nominating Chair, directly at nominating@packerpa.org. Thanks in advance for your participation!
Book Fair: Wed, May 1 through Fri, May 3 from 8 am to 4 pm (2nd Floor Gym)
The annual Packer tradition returns in early May. Much more information will come, but we are excited to announce the first ever Sip and Shop adults-only event on Tuesday, April 30 from 6 to 8 pm.  
Doing some early spring closet cleaning?  Keep functional and valuable materials out of landfills by making use of the convenient donation and recycling services now available at Packer. Thanks to Packer's Sustainability Team, we now have two donation containers from the NYC Department of Sanitation Zero Waste Initiative, refashionNYC (one container is located on the Garden level, across from the PA room and the other is on the 3rd floor of Little Packer).  All donations must be bagged and may include the following:
Children, women and men's clothing
Shoes and accessories (e.g., purses, gloves, scarves, hats and belts)
Towels, curtains, bedding, linens, clean rags
 
Donated items are distributed by Housing Works. Tax receipts are available.  To read more about the Packer's Sustainability Team and their commitment to addressing and reducing environmental impact, click here.
Parent Association Reuse and Exchange 
Looking for a new home for your Little Lincoln jacket? Need an outfit for the Living Museum? Parent Association Reuse and Exchange (P.A.R.E.) is back. Parents can access this on-line exchange here and through a button on the PA Resources page.
The Parent Association launched a Facebook Group and you are invited to join in the fun! The group includes posts about upcoming Parent Association events and programs, ways to get involved, and pictures from prior events. Join our page! Each request will be approved by a Parent Association member. 
PA Overview: 
Parent Group Meetings and Events

The Packer Collegiate Institute
170 Joralemon Street • Brooklyn, NY 11201